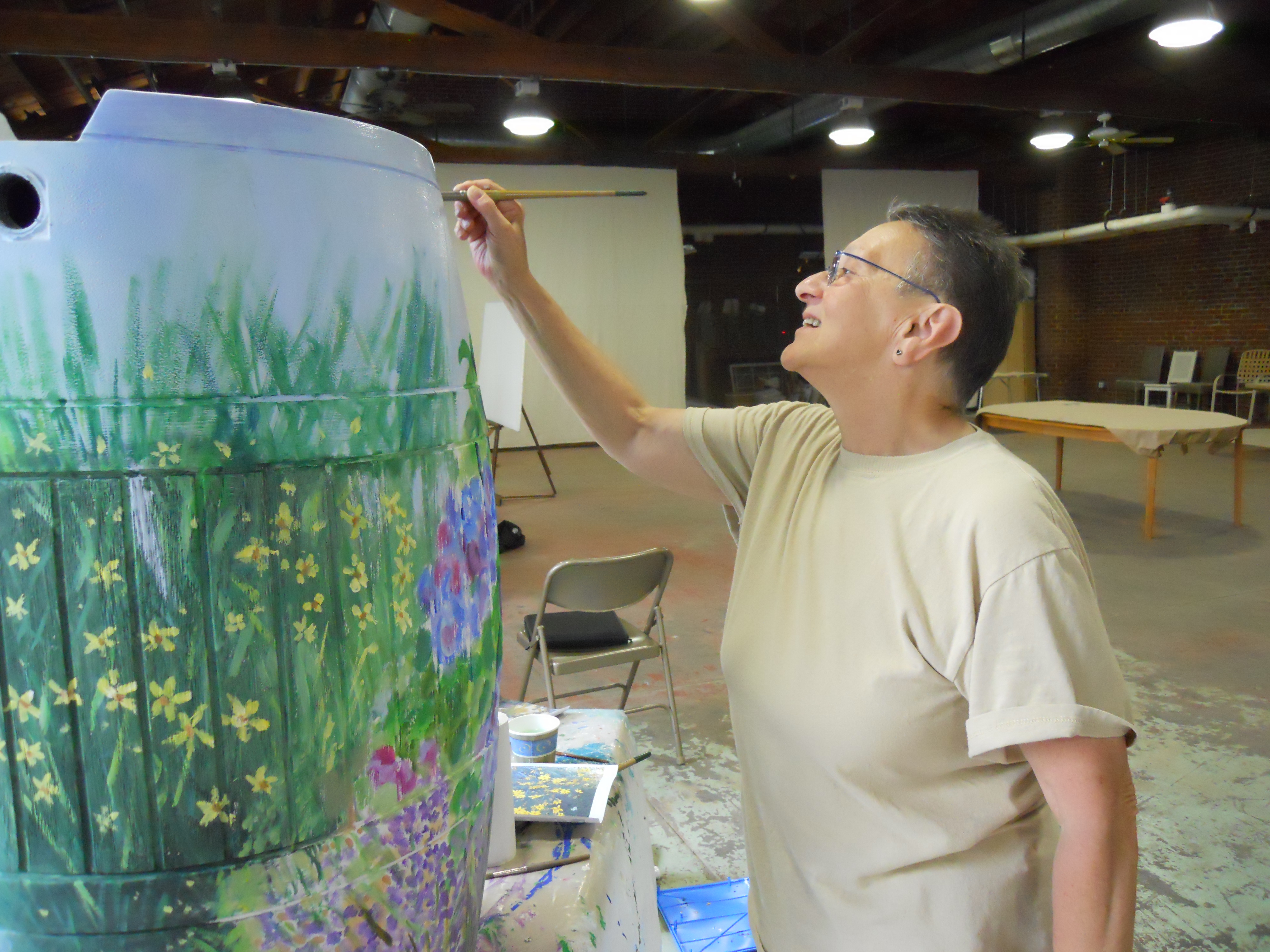 Looking for a way to beat those winter doldrums? Well, here at the Mt. Airy Art Garage, we've got the perfect solution and we're busting loose for Spring. MAAG will offer an array of studio classes for both children and adults, which include quilting, drawing, painting Rain Barrels, plein air painting, and more. 
Regardless of your desire, our accomplished teachers are bound to cultivate your creativity. Whether a novice or experienced student, you'll find a welcoming and supportive environment where creativity can rule. 
Plus, with classes being oh so affordable, now's the time to register! Until then, browse through the quilting class below, and stay tuned as we publish more classes. They'll be here soon! Find what you like? You can enroll online with the button displayed under each class description.
Come to MAAG and indulge your creativity! Claim your inner artist now!
COURSES
Ribbon Quilts: Color and Fabric Fusion | Sarah Bond
2 Classes – Saturday March 22 & Saturday April 26 
2 pm to 6 pm
Class Fee $65
This is a workshop style class. Using solid fabrics as a starter, students will explore the power of strip piecing and experimentation with color gradations, size gradations and alternations of solid fabrics with other fabrics. Working with solids is a great way to really experiment with color without the interference of textures or patterns. We will incorporate some patterned fabric as the class progresses. Students can use their own ideas or instructor's "recipes" for fabric constructions. Those constructions will then be cut and assembled into quilt tops. The title of the course refers to the ribbons of light and color that can be achieved with this technique.  
Students should bring basic sewing supplies, their sewing machine in good working order, and a variety of fabrics to work with. A detailed materials list will be sent to you upon enrollment.
This exercise in color play will translate into quilts of a variety of sizes and patterns and styles.  
Plein Aire Landscape Workshop and Artists Gallery Talk|J. Jordan Klinefelter
Saturday, May 17 and Saturday, May 31
10 am – 2 pm
Each Session: $30
In celebration of "Earth Day, Every Day," MAAG is showcasing the work of landscape painter J. Jordan Klinefelter, an award-winning graduate of the The Pennsylvania Academy of Fine Arts. Ms. Klinefelter will speak to her exhibition and then outdoors to the creek! Adults, 17 and up. What better way to spend a glorious Spring day!
Photoshop Elements for Artists| Mike Zaikowski
Sunday, June 1
1 pm – 4 pm
Class Fee: $35
Join Mike Zaikowski of Profiles fine art printmaking studio for a live demonstration of a straightforward method for artists to prep their files for juried shows. Mike will begin by discussing the basic tools of Photoshop Elements and will demonstrate step-by-step how to import a digital file into Photoshop, adjust color, sharpen and crop an image, and save the adjusted file within any given size and format specifications.
A workbook will be provided for each participant and there will be time for questions and answers during the presentation and at the end. There will also be samples for review.  
Discover Drawing|Robert Finch
8 Sundays, June 8 – July 27
2 pm – 5 pm
Class Fee: $250 for all 8 classes. Once registered, we will notify you of materials you will need.
The Mt. Airy Art Garage presents an outstanding opportunity for artists who are interested in improving their ability to draw effectively in a personal and expressive manner. Your skill has always been there, some aspects of which are lying beneath the surface. Now is the time to realize your natural gifts and bring them to the fore. Robert Finch, a modern day master of the art of drawing, will act as the catalyst in your personal journey of discovery. We will work from both the human figure and still life arrangements while unraveling the traditions in drawing.Drawings by Robert Finch are in many public and private collections. Including the Potsdam Museum in New York, and, in Philadelphia, the Free Library and the Pennsylvania Law School.
Students 16 and older are welcome. Open to all levels.
Design and Create Your Own Rain Barrels For Spring|Arleen Olshan
3 Saturday Sessions, June 7 – 21
Noon till 3 pm
Class Fee: $150 includes up to 2 participants & all materials fees. Please bring your rain barrel.
With winter finally behind us, now is a great time to day dream about the beautiful greenery that surrounds us in the Germantown corridor. With the expertise of MAAGs Rain Barrel Project teachers behind you and leading the way, you will plan and create unique, sustainable works of art for your home and community.
We will draw our designs, prepare the barrels with primer, paint and finish our designs together, and seal them for the warm season ahead.
For our neighbors who have participated in the Water Dept./ECA classes, bring your barrels to the Garage. Don't have your free rain barrels yet?  Easy! MAAG is partnering with GRinCH and the Water Dept. to host the May 17 Rain Barrel presentation at the Mt. Airy Art Garage. SIGN UP HERE and register directly on the Water Department's website to save your space. You will have your barrel delivered in plenty of time to take the class.
Both adults and children are invited to participate. Children, ages 8 and up, must be accompanied by a parent. Cost of the class includes up to two students per barrel.
Creating Your Own Comics|Ellen Marcus
6 Wednesdays, June 11 through July 23 (no class July 16)
6:30 pm – 8:30 pm
Class Fee: $120 for the series + $10 materials fee
Comic books are pages of illustrated panels that are placed together to tell a story. They became popular in America with the first publication in 1933, and have since grown in popularity for people of all ages. This class is instructed by an illustrator and animator with over 10 years of experience in the world of commercial animation and comics. You don't want to miss this exciting opportunity to learn about basic elements of comic book creation on paper and produce your own comic book at the end of class (space is limited to 15 students).
Want to know more about the class? Download the syllabus.
http://mtairyartgarage.org/wp-content/uploads/2013/12/DSCN1788_1489.jpg
3000
4000
Arleen
http://mtairyartgarage.org/wp-content/uploads/2016/06/maag-in-action_main-1024x274.png
Arleen
2014-05-16 23:25:15
2019-01-30 14:37:41
Spring Classes @ MAAG: Photoshop For Artists, Rain Barrels, Creating Your Own Comics, Drawing & More!