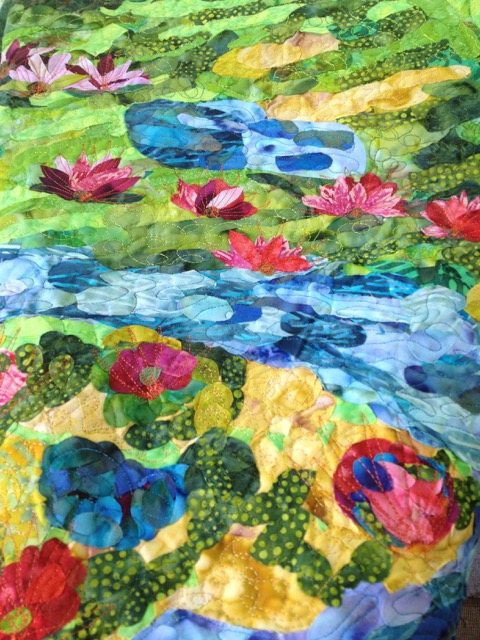 4th Sunday of every month. Sunday, March 22, 1 pm till 5 pm.
So who would have believed that Gaffney's Fabrics would become a partner with Quilt Time (QT)? Well, it's true! And we're honored to have one of the premier fabric stores in the region be our partner.
What's that mean for QT? It means we're going to have gift certificates, scrap bags, and more goodies. Did we mention QT members doing group shopping trips to Gaffney's? Sound enticing? It is.
So, get ready for this Sunday, March 22 starting at 1 pm at the Mt. Airy Art Garage.
Quilt Time's a whole new way to work on your quilts with fellow quilters. It's four glorious hours of multiple activities going on, at the same time, under one roof! Led by fine art fiber artist, Karoline Wallace. 
What activities? Well feast your eyes:
Time and space (4 hours with large tables) devoted to working on your quilts.
Help, advice, and tips on design, layout, and basting your projects.
Different classes every month—take-away projects to learn popular techniques;  quilted postcards, free-motion quilting and fusible web applique projects. Don't want to take a class? That's ok. You can listen in while you work. You just may want to join the next one.
Presentations offering tricks and tips on various aspects of the quilt-making process.
Building community, camaraderie, support, friendship, snacking, laughing, talking and enjoying fellow quilters' company.
And, of course, show and tell!
So join us. It's a great way to spend an afternoon in quilty madness. Coming soon…classes on flower vase wall hangings, free motion quilting, and a special group quilt for the Make Art, Grow Food community project.
Quilt Time costs $10 for members/$15 for nonmembers. All skill levels are welcome. If you choose to take the class, your cost includes a day admission to Quilt Time.
Fusible Applique Postcards "Working With The Flower Vase" — March 22 Class
Teacher: Karoline Wallace
Cost: $30 (includes materials)
Come join us as we make wonderful (real) fabric-quilted postcards.  You'll learn about fusible web appliqué, using Timtex (a millinery product, used as the base of the postcard), and how to finish these masterpieces (which are ready to be sent through the mail).  Then we'll print the reverse side of the postcard onto fabric—ready for use.
MAAG members get 10% off classes. Not a member? It's a good reason to join.
Sign me up now for this class!
Your Host—Karoline Wallace, Fine Art Quilter
Since discovering quilt making 16 years ago, I have experienced a very powerful creative outlet in fiber, specifically in quilt making.
Originally from Brooklyn, New York I have been greatly influenced by living in Paris and in West Africa. European and African aesthetics are a part of my experience and I try to incorporate that into my work.
I received a BA from the University of Pennsylvania in Art History and a Masters in Folklore and Foodways. I am a humanities person at heart, but I also hold a Masters in Computing and Information Technology from Penn's School of Engineering.
I make original quilts and I am proud to be the webmaster and active member of the Heartstring Quilters Guild in Bala Cynwyd, PA, and a member of the American Quilters' Society and the International Quilt Association.
My work has been published in Quilter's Newsletter Magazine, and shown in the International Quilt Festival in Houston and the Mt. Airy Art Garage in Philadelphia.
http://mtairyartgarage.org/wp-content/uploads/2015/01/KarolineWallace300dpidetail.jpeg
640
480
Arleen
http://mtairyartgarage.org/wp-content/uploads/2016/06/maag-in-action_main-1024x274.png
Arleen
2015-03-15 12:35:09
2016-05-30 14:18:53
Quilt Time & Gaffney's Fabrics—Partners in Quilty Madness!